Let's keep your Skin healthy! Annual Skin checks why everyone needs them.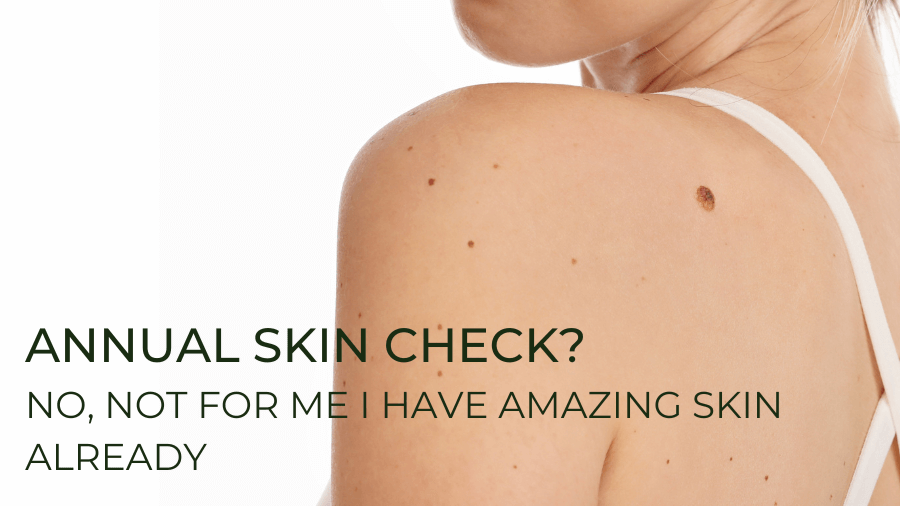 We hear this so often and it saddens us to know that we can help prevent a serious problem with an annual 15-20 minute skin check.  So in this article we want to breakdown why they are so important, what they entail and who should get them.  
WHAT IS AN ANNUAL SKIN CHECK
Annual skin checks could go one of two ways:  catching and treating a potentially deadly disease early or it simply may result in verbal praise from your dermatologist validating the healthy skin habits you've adopted in this last year. Both outcomes are astronomical returns on investment for only 15 minutes of your time each year you'd probably spend scrolling through your timeline. This is scary, but very true.  
Melanoma is the deadliest type of skin cancer, but basal and squamous cell carcinoma are far more common. Millions of people in the U.S. are treated for these cancers each year.
Besides early detection of skin cancer, an annual skin exam can make treatment for these cancers easier, too. Catching them early can mean less scarring and less invasive surgery.
That's the scary part, other than cancers, the annual skin check will also look for other potential concerns so together with your dermatologist you can put a management plan in place, this could be as simple as drinking more water. 
WHO NEEDS TO GET ANNUAL SKIN CHECKS
EVERYONE!  Yes really everyone can benefit from an annual skin check. However, some people are at a higher risk of skin cancer and should definitely get checked at least annually. You may have a higher risk of skin cancers if:   
You have fair skin, light hair, and/or light eyes   
You have or do frequently use a tanning bed    
You have a history of sunburns   
You have many moles on your body   
You have a direct family member who has had skin cancer
You are immunosuppressed and have serious health issues
Additionally, if you spend a lot of time outdoors more than the average person. 
MY MELANIN WILL PROTECT ME
Whilst we mention people with lighter skin are more prone to serious skin problems, that does not mean the darker skin is not at risk at all.  "Yes, it's true, melanin in darker skin helps to shield damaging UV rays more than in lighter skin, which is why people with darker skin are less likely to get sunburned and have lower incidence of skin cancer. However, more often than not I have found my patients with darker skin use sun protection less frequently if at all, which ultimately leads to increased cellular DNA damage, aging and skin cancer.  My recommendation is for everyone to use daily physical sunblock and take 15-20 minutes out of your day once a year to get checked!" says our board-certified dermatologist, Dr. Vlada Doktor. 
WHAT DOES THE ANNUAL SKIN CHECK LOOK FOR AND PREVENT
During your annual skin exam, Dr. Doktor will look for any indications of skin cancer. Common indications include:   
Sores that won't heal   
Changes with a mole or freckle   
A change in skin texture or color   
The appearance of lesions or bumps   
Scaly or flaky skin   
Unexplained itching or burning
Dr. Doktor will thoroughly examine your skin for these signs of skin cancer as well as ask about your lifestyle and health history. Come prepared with any questions you have.
Don't be shy during your skin screening. Make sure to tell Dr. Doktor about any changes you've noticed in your skin and any concerns you have. You know your skin better than anyone else, and no concern is too small.
HOW YOU CAN PREPARE AND MAKE THE MOST OUT YOUR APPOINTMENT  
Perform a self-exam and come to your appointment prepared with notes about any new, changing or unusual spots you want to point out to your dermatologist. Share any photos you have for anything that has changed over time.   
Remove nail polish to enable thorough examination of fingers, nails and nail beds, since skin cancers can form there.   
Keep your hair loose, so that your doctor can get a good look at your scalp where skin cancers can, and do, develop.   
Ask questions!
READY TO BOOK OR HAVE MORE QUESTIONS?
Contact  our amazing team and they will help you with any questions you have or have you booked in for your appointment.