The most anticipated event of the year BOTOX Cosmetic Day!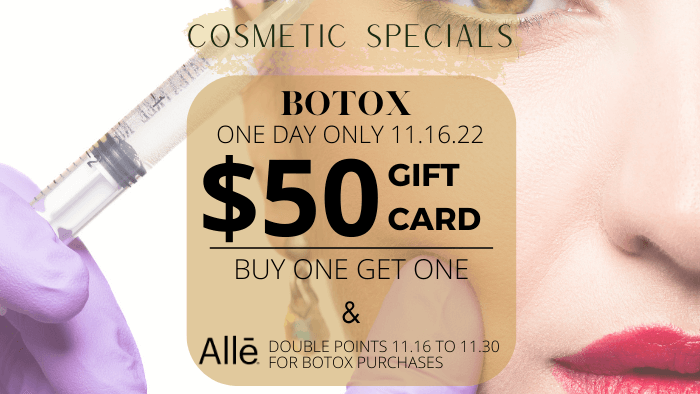 YES it's happening again and don't miss out on these incredible offers!
BOTOX Cosmetic Day is 11/16 at 9 am PT. Celebrate with a Buy One, Get One $50 Gift Card offer, exclusively for Alle Members. Plus, earn Double Points.  You can also earn Alle Double Points when you receive a BOTOX Cosmetic treatment from 11/16 – 11/30.
Not an Alle Member?
Join Alle to take advantage of these special BOTOX Cosmetic Day offers.
Questions or Ready To Book?
Our team are ready to help you with any questions you may have as we don't want you to miss out on these incredible offers.  Please contact our team here and if you're ready to book let us know when you would like to come see us by requesting an appointment here.  
Terms & Conditions:
Buy One Get One 
- On November 16, 2022 and while supplies last, Alle Members may purchase a $50 BOTOX Cosmetic (onabotulinumtoxinA) Gift Card and get one $50 BOTOX Cosmetic Gift Card for free. 
- Must be an Alle Member to purchase and redeem gift cards. 
- Limit one BOTOX Cosmetic Day Buy One, Get One Free Gift Card Offer purchase per Member.
Double Points 
- Members who get treated with BOTOX   Cosmetic from November 16, 20?22 through November 30, 20?22 will earn double Alle Loyalty Program points for one treatment visit. 
- Each Member is eligible to receive Double Points once during the Promotion Period. 
- Member will earn standard Alle points on all other eligible purchases.